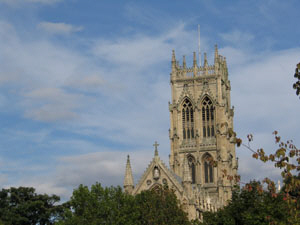 A place of worship has stood on this site for many centuries, possibly from the seventh century onwards. In Norman times a motte and bailey castle was built where the minster now is. Nigel Fossard was the Lord of the Manor of Doncaster.
In 1204 a massive fire devastated much of Doncaster and a church was built on the present site. It was a large church and it was built in the perpendicular style.
On February 28th 1853 there was another fire. This great fire destroyed the mediaeval church and so plans were laid to rebuild it.
Sir George Gilbert Scott, architect, was chosen to design the new building. His plan resulted in the fine Victorian Gothic revival church which we can still marvel at today. It was consecrated in 1858.
On 17th June 2004 the Lord Bishop of Sheffield, Jack Nicholls, inaugurated the church as a Minster.
These images are at a resolution of 72dpi and will not print in high quality. To obtain hi res images for printing (300dpi) please contact Danum Photos. All photos of Doncaster Minster are for sale.